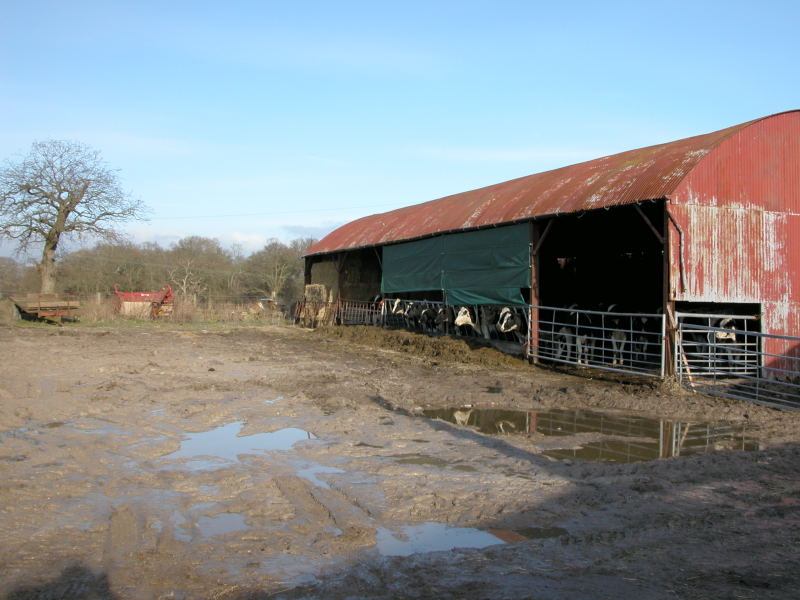 Wanstead Farm cowshed.
At the edge of Place Wood, mount the bank on your left, to find your new path running between wire fences at the edge of the wood. Soon cross a style into the field on your left, and follow the field edge before re entering the wood via another style. The path through this private wood is very well marked, with bright paint splashes on the trees and posts. A good thing too as we could hear gunshots nearby and we had no desire to be mistaken for Pheasants ! After crossing over a rough vehicle track, continue along your path, well defined but not now paint splashed, untill you come to yet another part of the Southwick Park wall. Bear right and head up onto another lane, which you turn left onto.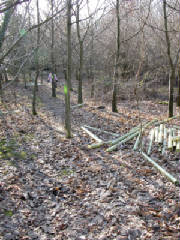 Place Wood pheasant country !
On the left is some smart naval housing in Boulter Lane. Continuing however on your original lane, you will soon come to a bridleway on the right, following this narrow little bridleway between high hedges, you dip down to a stream, where you have the choice of fording it or crossing over the footbridge. Widening out now your path soon reaches the tarmac approach to Mitchelland Farm. Turning left to walk away from Mitchelland Farm you pass Vernons Farm on your left, before reaching Common lane, onto which you turn right. Continue along the lane, then take the next footpath on the left, via a style on a slight ridge, keep to this path all the way toward Walton Heath, ignoring another path through a field to your right, until you reach a broken tarmac track forming a T junction with your path.
Church tower of St James in distance.
Turn left onto the broken tarmac, and follow the path as it bears left through the scrub to emerge into an open field. An obvious path points the way through a stand of trees towards the distant church tower of St James in Southwick, and the MOD radar installations on Portsdown Hill beyond. Crossing Common Lane once more, enter another field with an equally obvious path, which you follow before emerging between houses onto Back Lane, in Southwick.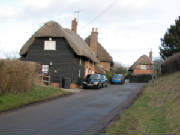 Back Lane Southwick
Turn left onto Back Lane, passing some thatched cottages before reaching the High street junction, where you must turn right into the High Street. Here you will find the Red Lion pub, followed by the Church of St James, a very good Post Office store and just for good measure, another pub, the Golden Lion. From here it's just a short walk to the end of the High Street, over a bridge, to the roundabout, where you turn left to return to your car in the lay by.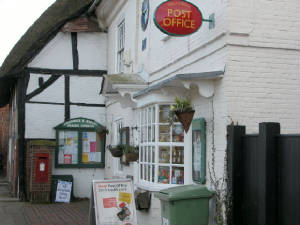 Southwick Post Office
Map of the area, courtesy of Multimap.