From the M3 junction 13, follow Leigh Rd toward Eastleigh. Continue via Romsey Rd and Bishopstoke railway bridge, to Fair Oak. Turn left at the traffic lights, into Winchester Rd, then next right onto Mortimers Lane, at the end of which turn right and immediately left opposite the Alma Inn. At the T junction turn left once again to follow the lane into the village of Upham, where you should be able to park near to the village duck pond..
From the duck pond, walk back the way you drove in, and at the red phone box, turn right into Shoe Lane. Pass the Brushmakers on your left, making note of the opening hours, (not all day). Soon with Farthing Cottages on the left and a green ahead, you must bear left, and continue until reaching a style and footpath, next to Freshfields Bungalow, on your right.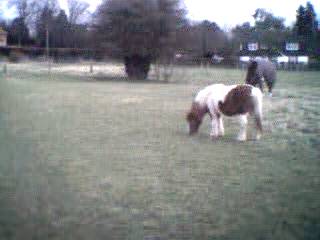 Climb the style and cross the horse field, to the next style, cross over and turn left to follow the footpath along the field edge. The path becomes a little stoney, and sometimes slippery as it descends into a thicket, which you exit via a kissing gate into another field, which dips then rises up to a style in the tree line. Turn right to follow the path along the tree line.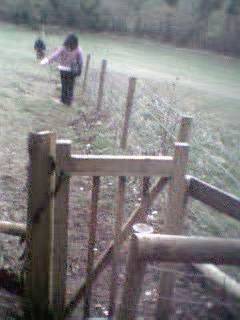 Soon passing through a small stand of trees, you will see the smart cream painted farmhouse of,Woodlock's Down Farm. Your path threads it's way toward the farm, eventually passing close by, and rising up away from it. Through a hedge to a T junction of paths, turn left, and soon skirting the edge of Rowhay Wood, bear right to emerge onto Baybridge Lane. Turning right descend along the tree arched lane, to a junction.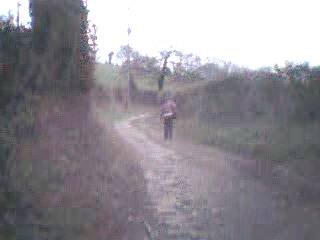 Turn right here, signposted Upham, then in a few yards to your left is another lane, signposted Woodcote. This you must follow, until reaching Woodcote Farm on your left, opposite which is the un made up track, which is Woodcote lane. Turn right onto this rough track, popular with horse riders and trials bikers, and follow it to it's meeting with the tarmac road, which you turn left onto, to follow back past the Green, and the hospitality of the Brushmakers, to where you left your car.